General Information
REGISTRATION
On-site registration will start at 16:00 on Sunday (July 13) at a lobby of Kyoto Terrsa (west building). Please pick your congress kit there. The registration desk will open at 8:30 in the morning from Monday to Wednesday and 13:00 on Thursday.
Staffs of travel agent, JTB, will stay at the registration desk and be available for your personal trip if necessary.
ROOMS
Opening and closing ceremony and poster session, special program "My Favorite Acari" are held in TERRSA Hall (west building). Other symposia and oral sessions are held at 2nd and 3rd floor of the east building. Please see maps: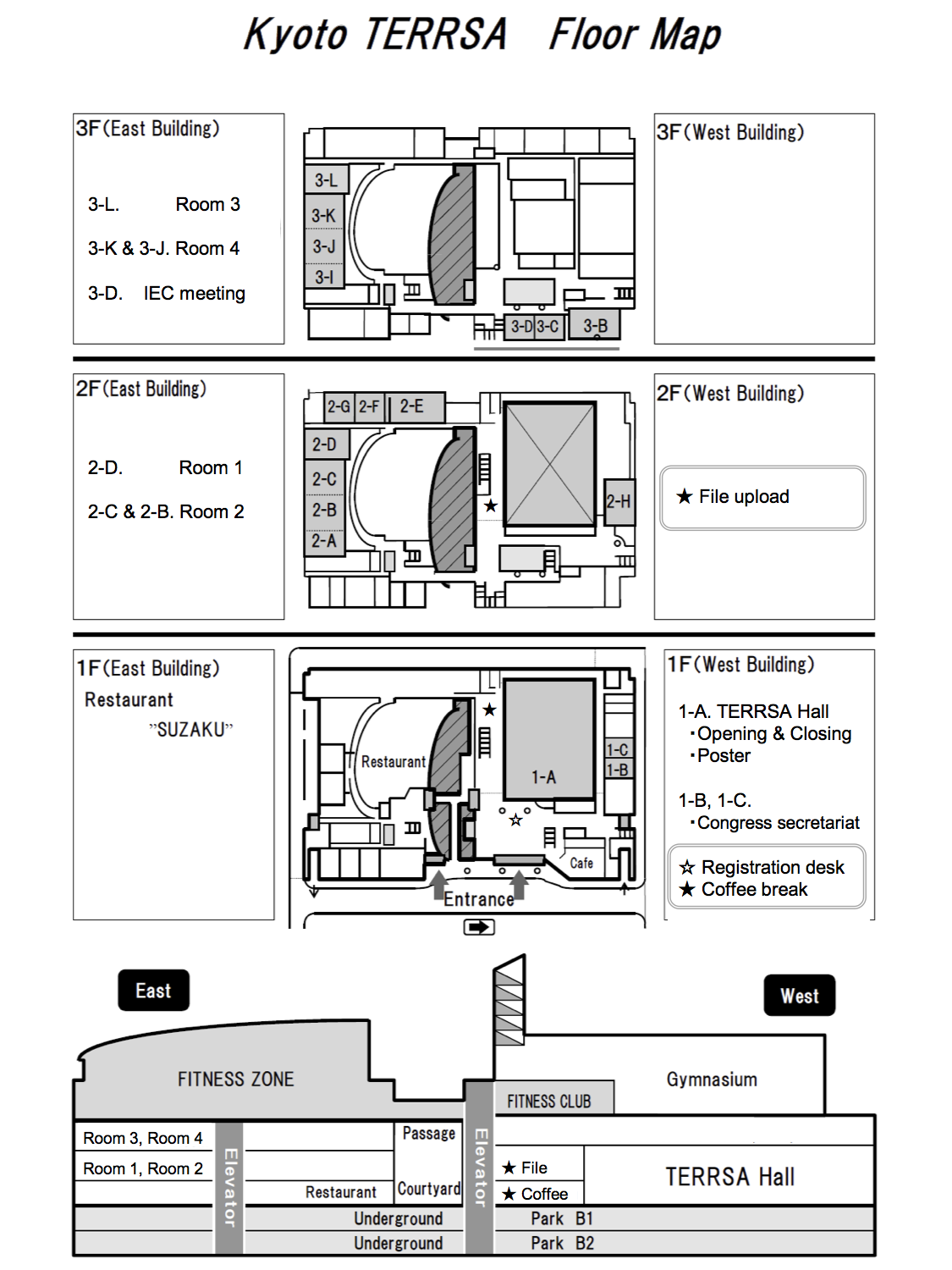 NAMEPLATE
Please put your nameplate on during the congress. It will be used as your ID to participate congress activities.
WELCOME RECEPTION
Welcome reception will be taken place in TERRSA hall, the west building of Kyoto Terrsa on Sunday (July 13) from 18:00 – 20:00. It is included in your registration fee and all participants including accompanying persons are welcome to join the reception.
COFFEE BREAK
Coffee and some other soft drinks will be served Monday to Thursday 15:30 – 16:30, and Tuesday to Friday (except Thursday) 10:30 – 11:30 at the 1st floor of Kyoto Terrsa. It is included in you and an accompanying person's registration fee.
LUNCH
Official lunch time will be 12:45 – 14:00 although the time may be changed a little depending on a symposium. Lunch is not included in registration fee. Information of restraints is available on a sheet provided at the registration desk and maybe by your Japanese colleagues.
BANQUET
The congress banquet (the congress dinner) will be taken place on Tuesday July 15 from 18:00 in Genji-no-ma at the 3rd floor of Hotel Granvia Kyoto. Please bring your nameplate with you to join the banquet. For the location and route to Hotel Granvia Kyoto, please take a look at a map in a congress bag. Please do not miss a traditional Japanese dance at the opening of the banquet.
PROCEEDINGS
Authors wishing to have full papers corresponding to their presentations considered for publication in the Proceedings of the Congress should submit their manuscripts before or on 18 July 2014 to the Editorial Office for ICA14 Proceedings. The manuscript should be submitted as attached files to the Editorial Office by e-mail (proceedings@ica14.acarology-japan.org) or ON-SITE saved on a CD. Please check details at http://ica14.acarology-japan.org/?p=729.